Sandy beaches with spectacular sunsets and unforgettable ocean experiences
With its sandy beaches, red brick promenade, waterfront eateries, dramatic sunsets, and the warmest ocean water on the Canadian west coast, White Rock is known as the jewel of British Columbia. A quiet, growing, seaside community tucked between Surrey and Washington State, White Rock is a scenic community offering a variety of leisure activities from windsurfing to golfing to oceanfront promenade walks.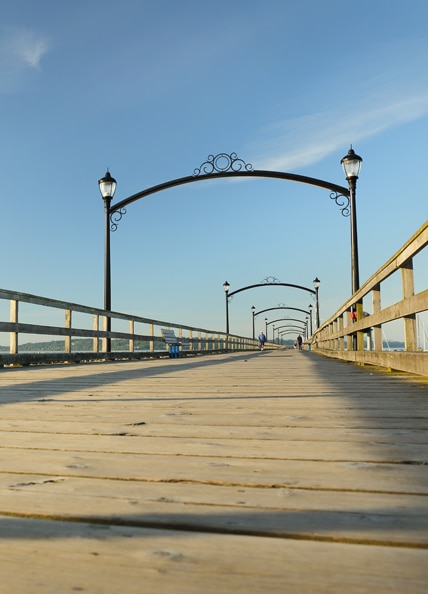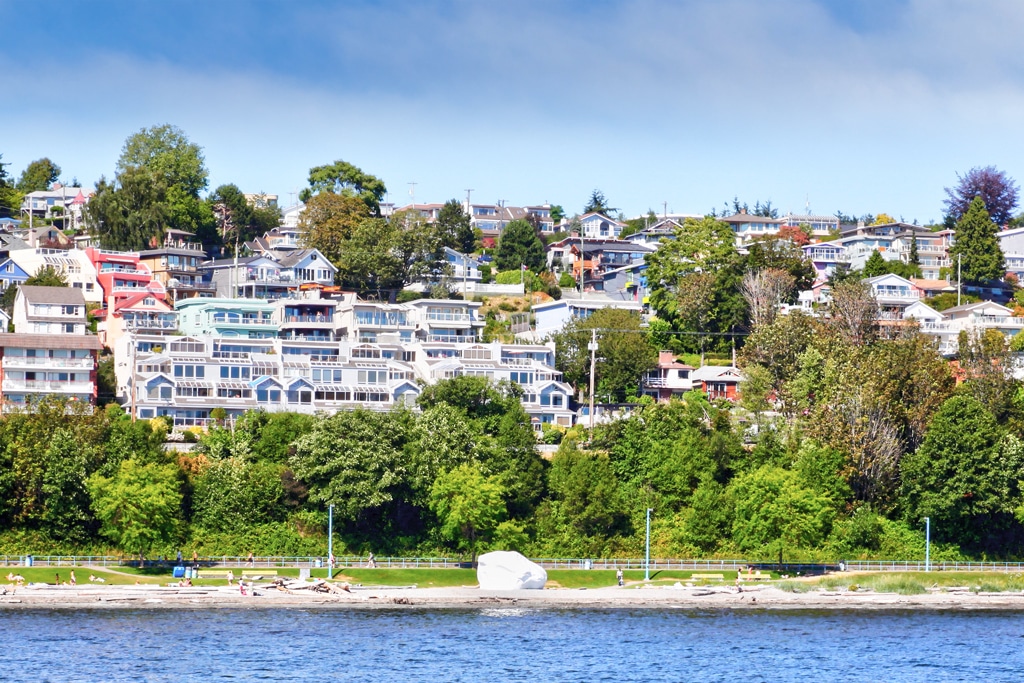 White Rock resides on the traditional, ancestral and unceded territory of the Semiahmoo [semi-ahmoo] First Nation, and is home to the Surrey-Delta Métis Association.
Nestled on the coastline on the most south-western side of neighbouring city, Surrey, White Rock is approximately 50 minutes (48 km) from Vancouver's city centre and a quick five-minute trip to the Canada/USA Peace Arch border crossing. In fact, you can see parts of Washington state across the water.
Approximately 20,000 people call White Rock home.
White Rock offers schooling for kindergarten through to grade 12 as part of the Surrey school district, with post-secondary and higher education opportunities in nearby cities.
Primary industries in White Rock consist of tourism, food and beverage, and, entertainment, including the film/television sector.
Known for its historic waterfront pier and promenade, and one of the best beaches in the province, any season is the perfect time to be in the charming community of White Rock. Visit a beach-front restaurant for the best views to watch the sunset, check out Totem Park, explore the local breweries and nearby wineries, or, grab your paddleboard for a view of the city from the water.
Nestled on the coastline on the most south-western side of neighbouring city, Surrey, White Rock is approximately 50 minutes (48 km) from Vancouver's city centre.
As a community hospital in Fraser Health's integrated network of care, the role of Peace Arch Hospital is to provide primary, secondary, and some specialty services, such as 24/7 emergency, general medicine, surgery, maternity, inpatient, and outpatient care, with some services requiring a referral while others can be accessed directly. Peace Arch Hospital has a capacity of 171 acute care beds as of July 2018. It provides care and services primarily to local community residents, and, to a limited extent, residents of the surrounding communities.
In 2010/11, Peace Arch Hospital saw 51,251 emergency room visits, provided care to 8,377 inpatient and 7,613 surgical daycare cases, delivered 1,060 newborns, and had 119,438 visits to ambulatory care.
In keeping with the network and systems approach to organizing and delivering services in Fraser Health, Peace Arch Hospital primarily serves its local communities of South Surrey and White Rock, referring patients who require higher level of care to Surrey Memorial or Royal Columbian Hospitals.
In addition to service delivery, Peace Arch Hospital is a teaching hospital affiliated with UBC's family medicine and psychiatry residency programs.
Emergency Department Expansion and Upgrades
Peace Arch Hospital
15521 Russell Ave, White Rock, BC, V4B 5M2, Canada
We're proud of our teams.
See the latest news, stories and innovations in White Rock.
Together, we are building the future of health care.
Fraser Health is generously supported by a network of health care foundations. Donations to our health care foundations build upon government health care funding to help support priority equipment, education, research, facility enhancements and/or other projects in our hospitals and surrounding communities.
Ready to make a difference?
Join our dedicated team of health professionals in White Rock.
Emergency Psychiatric Liaison Nurse (EPLN)
Registered Nurse, Medicine
Registered Nurse, CCU, ICU, Cardiac Stepdown, High Acuity
Our staff and medical staff share their experience.
See what the team has to say about their experience working and/or living in the Fraser Health region
Explore Other Communities