A flourishing city: abundant parkland, premier golf courses, and a charming rural atmosphere
Surrey is one of Canada's fastest growing cities and its land mass makes it one of the largest cities in the province, equal to the size of Vancouver, Richmond and Burnaby combined.
Known as the City of Parks, Surrey has over 6,000 acres of parkland and 15 golf courses and driving ranges. Also, despite rapid growth, Surrey has held onto the rural flavour of its past, with about 35 per cent of its land designated as agricultural and still actively farmed.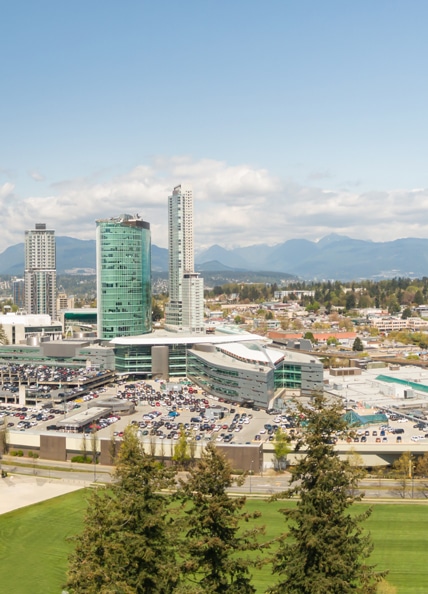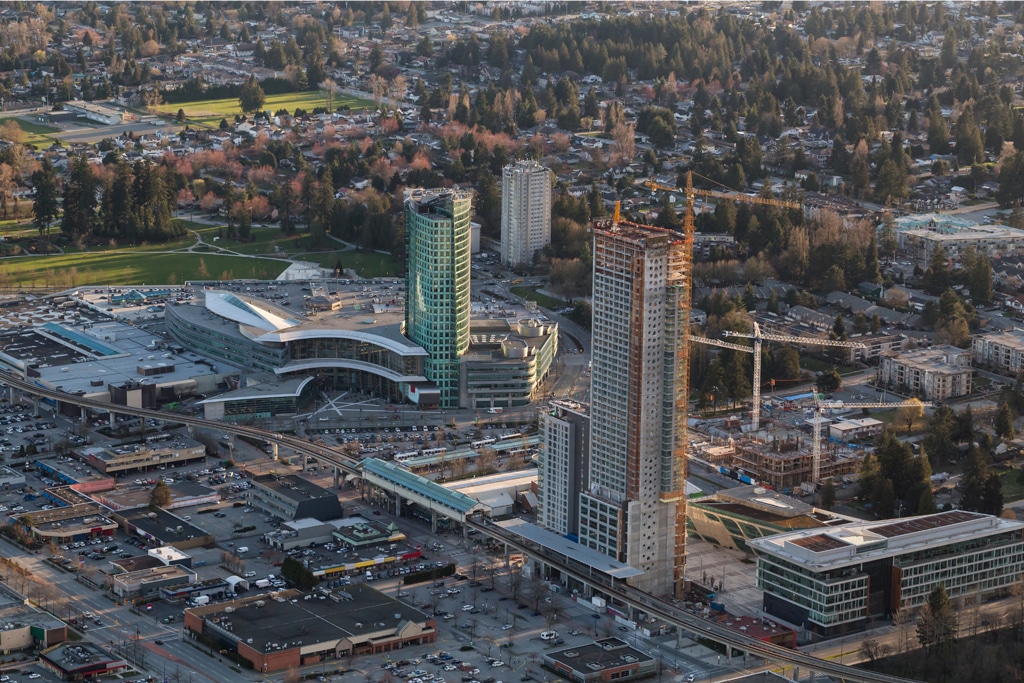 Surrey resides on the traditional, ancestral and unceded shared territories of the qicəy (Katzie) [kut-zee], qʷɑ:nƛən [Kwantlen], kʷikʷəƛəm (Kwikwetlem) [kwee-kwet- lum], Semiahmoo [semi-ah-moo] and scəwaθən məsteyəxʷ (Tsawwassen) [tsawah-sen] First Nations, and home to the Surrey-Delta Métis Association.
Enveloping the majority of Metro Vancouver's area south of the Fraser River, Surrey is Metro Vancouver's gateway to Washington State to the south with bordering cities of Langley, Township of Langley and Delta on each side. Surrey is centrally located in the region with major access to communities north of the Fraser River and about 40 minutes (46 km) from Vancouver's city centre.
Surrey is home to over 600,000 residents with a population projected to increase by more than 267,000 over the next 26 years.
Surrey has the largest public-school district in British Columbia, including schools from kindergarten through grade 12, with a number of private schools in the area.

Home to a third Simon Fraser University campus and the main Kwantlen Polytechnic University campus, Surrey also has a number of private post-secondary intuitions offering vocational training.
Surrey is one of the largest industrial centres within British Columbia, with a growing high technology, clean energy, advanced manufacturing, health care, education, agriculture, film/television and arts sector.
There are several large employers based in Surrey with more than 1,000 staff across the province (Fraser Health being one of them).
With a few waterfront areas in the city, Surrey provides access to some of the areas most stunning beaches. Visit Crescent Beach for a variety of recreational activities from swimming to volleyball, or take the dogs for a swim at Blackie Spit Park. Stroll through the hundreds of city parks and trails, or explore the regular events and festivals at the Cloverdale Rodeo Grounds. With several retail shopping hubs, Surrey is home to multiple big-box stores and the some of the most well-known brand-names.
Surrey is centrally located in the region with major access to communities north of the Fraser River and about 40 minutes (46 km) from Vancouver's city centre.
Surrey Memorial Hospital is the largest of three regional hospitals in Fraser Health's integrated network of care, providing primary, secondary, and tertiary services, including 24/7 emergency (including a dedicated pediatrics emergency area), cardiac and critical care, levels one, two and three obstetrics and neonatal intensive care, adolescent and adult inpatient psychiatry, surgical sub-specialties (e.g., plastics, thoracic, vascular, orthopedic), inpatient rehabilitation and ambulatory care. Consistent with the integrated network approach to delivering care, community programs such as home health, public health, community mental health are part of the care and service continuum.
With 624 acute care beds, and 36 neonatal intensive care (NICU) bassinettes, in one of BC's fastest growing communities, Surrey Memorial Hospital delivers more newborns every year than any other hospital in Fraser Health's integrated network of care.
In 2016/17 Surrey Memorial Hospital saw 157,711 emergency room visits, provided care to 30,075 inpatient and 12,020 surgical day care cases, delivered 4,461 newborns, and had 165,331 visits to ambulatory care.
As a regional hospital for Fraser Health, as well as the home hospital for one of BC's fastest growing communities, Surrey Memorial Hospital is the second largest hospital in the province with the province's busiest Emergency Department. Surrey Memorial Hospital provides specialized care to people from across Fraser Health, not only to residents of Surrey.
Surrey Memorial Hospital is a regional referral centre for adolescent psychiatry pediatrics and maternity infant care.
Surrey Memorial Hospital
13750 96 Ave, Surrey, BC V3V 1Z2
We're proud of our teams.
See the latest news, stories and innovations in Surrey.
Together, we are building the future of health care.
Fraser Health is generously supported by a network of health care foundations. Donations to our health care foundations build upon government health care funding to help support priority equipment, education, research, facility enhancements and/or other projects in our hospitals and surrounding communities.
Ready to make a difference?
Join our dedicated team of health professionals in Surrey.
Project Manager - Redevelopment & Major Projects
New Surrey hospital & Cancer Centre
Registered Nurse, Medicine - Oncology
Registered Nurse, Transition Line (Pediatric Emergency - Specialty Nursing)
Surrey Memorial Hospital (multi-site float)
Our staff and medical staff share their experience.
See what the team has to say about their experience working and/or living in the Fraser Health region
Explore Other Communities